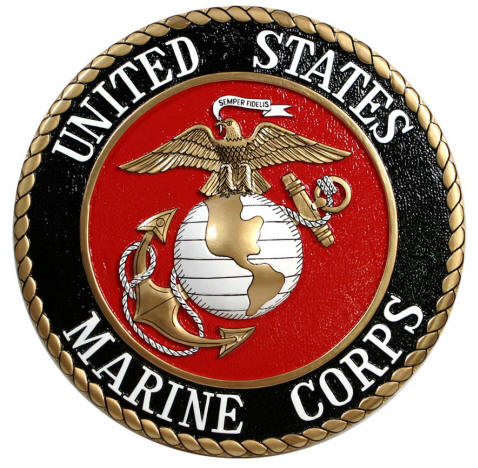 Justin re-enlisted in the Marines today. He is FINALLY going to get to learn Arabic. That's why he enlisted in the Marines in the first place... to be an Arab linguist.
Our next stop is Monterey, CA where Justin will attend the DLI (defense language institute). Yay! We might finally get some visitors. We're not sure when we're supposed to report but it'll be sometime after next April (hopefully so I can have this kid first).
It's definitely memorable that he re-enlisted on 9/11. Though most of our reasons for being in the military are selfish I know Justin is proud to serve his country. I'm proud of him! Just wish he'd come home already!
That's the short version. If you'd like the long version, Justin e-mailed a letter today to family members. Here's part of it:
When I was on my mission I decided that what I want to do in life is to learn Arabic and be a special agent for the F.B.I. To help me on that path I started attending Mesa Community College in hopes of knocking out my general education and then moving on to a degree in Arabic or Middle Eastern studies through a university. MCC offered some Arabic courses I enrolled in to help me get a start on learning Arabic. When it came time to decide
whether I wanted to continue on with school or to join the Marine Corps in hopes of going to the DLI to learn Arabic, I decided to join the United States Marine Corps. The entire reason I
enlisted in the United States Marine Corps was to learn Arabic and that didn't happen. I was stuck as a Special Intelligence Communicator for the next five years. That job turned out to be great! I loved working on computers, but I still had a deep desire to learn Arabic. When it finally came time to decide whether to stay in or get out, I needed to complete 12 more classes to earn my Bachelors in Middle Eastern Studies and that meant taking classes non stop up until September. I would really be pushing it to have my degree by the time I got out of the Marine Corps and then that left me no time to go through the waiting process of getting into the F.B.I. or NCIS. After much pondering, praying, and consulting with the boss, Shauna, I decided to
go ahead and re-enlist and that happened today. I had to re-enlist for 5 more years and when I get back from Iraq I will be headed to Monterey, California to attend the Defense Language Institute where I will learn Arabic. I don't know when I will leave or where I will go afterwards. I am excited because I am back on track after a five year pit stop. It was hot today, as usual, and I had about 10 people attend (the re-enlistment ceremony). My Senior Drill Instructor is my company 1st Sergeant, so that was kind of cool to have him there. I never thought I would see him again. I had Sgt Sickles film the re-enlistment and I will mail it home to Shauna one of these days. But other than that, there hasn't been too much going on. I am interested in knowing what the future holds for me now. My three choices for duty stations were England and two letter companies at Ft. Meade Maryland. I will probably end up in Maryland which would be cool because D.C. is roughly 45 minutes from there. England is pretty much not going to happen but it would be nice.
I Love you all and thanks for the prayers and everything else.
Love, Justin